Jes Extender Before and After Pictures
Last Update: Wednesday 5 February 2020
---
Jes Extender Australian Edition – Before and After Results

Welcome to the Jes Extender before and after pictures page. If you are looking for the best penis enlargement product available, you have arrived. Real results such as those below are only a click away. We exclusively stock the Australian edition of Jes Extender which is made to precise medical grade specifications (clinical trial specs etc.). The Australian version is exclusive to us (JesExtender.com.au) and is manufactured to ensure the most effective and clinically proven tension range is being applied, whether using for penis enlargement or straightening.
Proven Tension Levels – Crucial To Good Results
Be aware of imitation traction devices based in the USA. Imitation products usually boast very excessive force (2000, 3000 or 4000 grams etc) when in fact much lower tension is required for safe growth and to prevent plateau periods. Our packages will apply the maximum safe amount of tension to help promote safe and effective penis enhancement results.
Use Jes Extender According To Your Lifestyle
There is no minimum amount of use needed, however we generally recommend to aim for 1 to 4 hrs use daily (broken into smaller sessions) to encourage significant penis growth. The more Jes Extender is used overall, the more results can be expected. After the users below achieved their gains and provided their pictures to us, they were given 100% money back. This means they literally got paid to enlarge their penis with Jes Extender! As if that's not enough, they also got to keep their devices! Please note: this promotional offer is only eligible for direct orders placed through this website.

Expert Tech Support For The Fastest Gains!
Although Jes Extender is the highest quality and only penis enlargement product that has been able to obtain Australian TGA registration. There are advanced tips and techniques our team has developed which we happily share with our direct customers. We coach our customers and offer this knowledge for free to assist gaining the most optimal results, in the least amount of time. Our expert team are available 24-7 (phone/text/email/online chat). We can only offer our specialised support and coaching for orders made directly from this website.

Before and After 100% Money Back Offer
Exclusive money back offer on now. For a very limited time we looking for more dedicated Jes Extender participants. Offer open to all customers who order direct from this website. Orders made on a weekly payment plan are also eligible.

---
---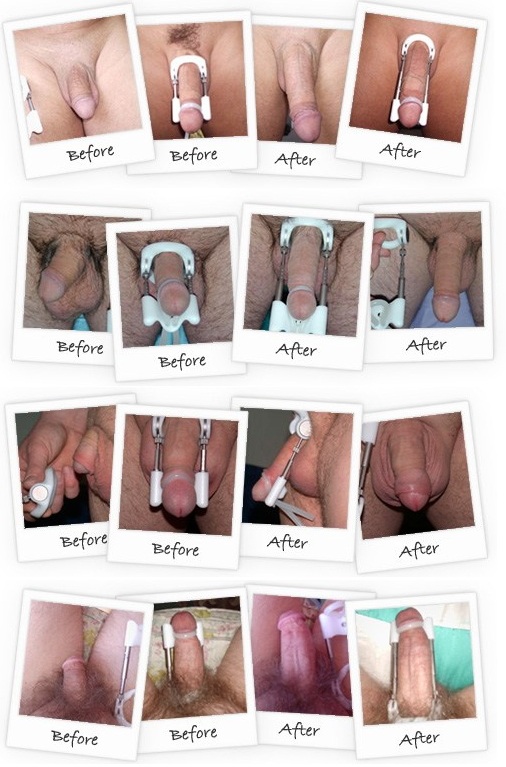 Jes Extender clinical trial photos – indications were that 4 months use gave an average 30% in length and 20% in girth* for most men of average size, that means around a 1 to 2 inch size increase! If wanting to use for longer than 4 months for bigger results, we recommend either the Titanium or Gold Ultimate package.
For an indication of results you can possibly expect when starting from your current size click here. To check if you are able to use Jes Extender view the minimum requirements here.
---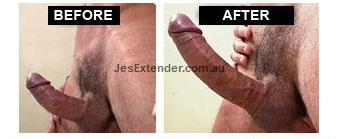 This customer used regularly for 6 months and gained almost 3 inches!*
---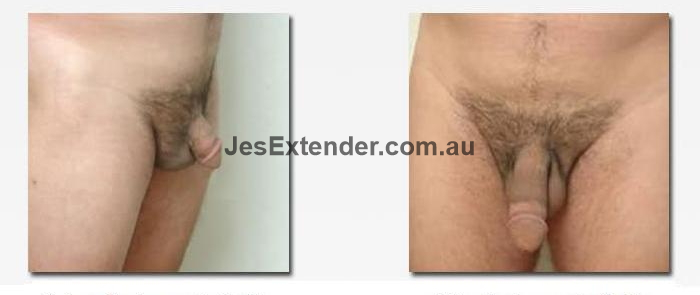 This customer used regularly for 4 months and gained 2.5 inches!*
---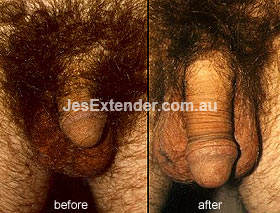 This customer used on/off for 3 months and gained 1.5 inches!*
---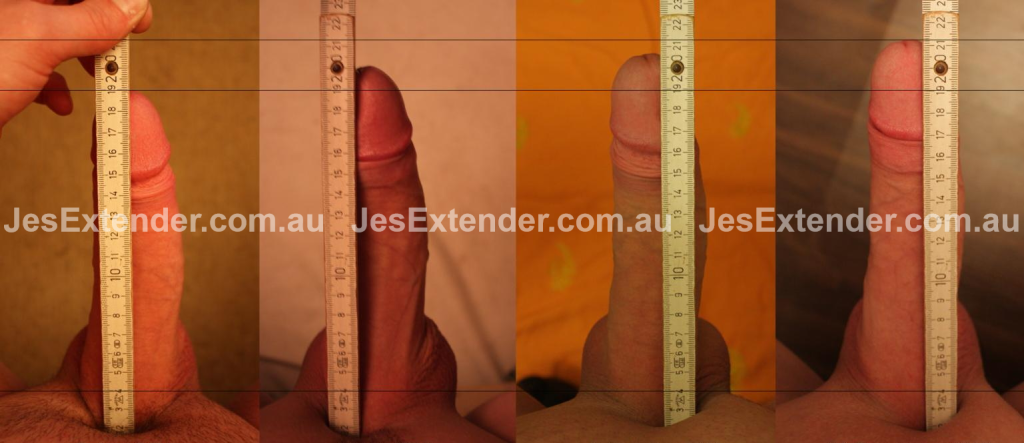 This customer used regularly for 2 months and gained 1 inch!*
---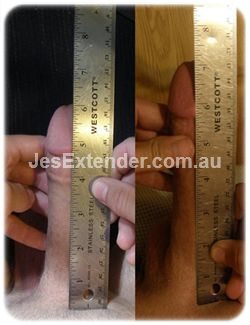 This customer used on/off for 3 months and gained over 1 inch!*
---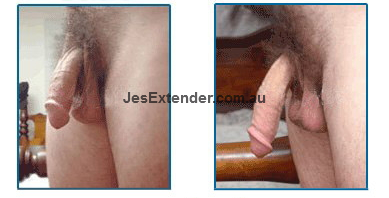 This customer used regularly for 4 months and gained over 2.5 inches!*
---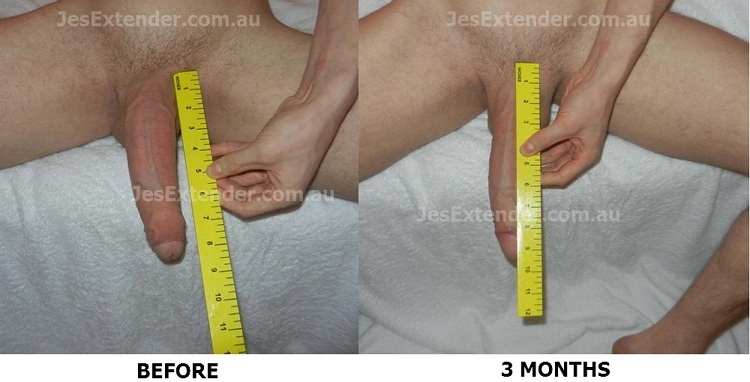 This customer used on/off for 3 months and gained 1 inch and also reported a "considerable girth increase".*
---

This customer used regularly for 6 months and avoided having surgery!
One of our latest before and after photo participants. After being diagnosed with Peyronie's disease which was caused by an accident, he was advised to have surgery and to get a penile implant. After his injury he noticed a "knuckle" like lump of plaque on the top side of his penis, a gradual decrease in penile size and an upward bend when getting an erection. He experienced difficulty urinating and having normal sexual activities. He decided to research surgery alternatives and ordered our Jes Extender Gold Ultimate package.
Following our instructions he used for 3 to 4 hours daily (with a few breaks here and there in the 6 month period) and the above is an indication of his positive results. Not only did he avoid spending thousands on surgery, he provided his before and after photos he got a 100% refund and got to keep his Jes Extender package. Further, he is so happy he wanted us to inform anyone inspired by his results to call him direct for his own personal testimony and advice if they want it! (Please contact us if this interests you). We are absolutely thrilled to help him with a penile injury which resulted in gradual penile shrinkage and the diagnosis of Peyronie's disease.
---
This customer used with dedication for 6 months and gained 2.5 inches!
One of our latest participants aged 72, who ordered in September last year. After noticing a gradual loss of his natural size since his 50's he considered he would just have to "live with it". Last year he met someone that sparked his fancy and decided he would look for something to help him "get back in the game"
He first tried pills then pumps and realised at best, they could only give temporary results, but "most did nothing at all". He spoke to his Doctor about his shrinkage issue who recommend he try Jes Extender. He reported "definite results" within the first 2 weeks and says his erection quality is far better than it has been in years. 6 months of solid use later, these are his positive results!
---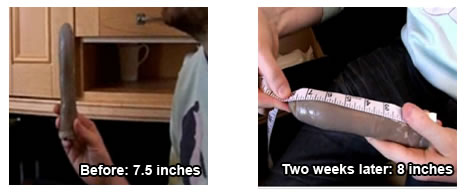 Before and after "clone a willy" results of BBC presenter Tim Shaw. His results were a half inch increase in just two weeks of use!* Click here to see the video.
---
Jes Extender – The Only Genuine Penis Enlargement Product in Australia!
---
Before and after pictures 100% refund offer

We are again looking for enthusiastic Jes Extender users like those above to participate in our before and after refund offer.

Jes Extender before and after requirements:
Before, 1 month, 3 month and 6 month photos required (or when you stop using).
Wearing for at least 1 to 2 hours daily is recommended (when possible).
To ensure authentic products are used, only direct purchases from this site are eligible.

To take us up on this limited offer, place your order now and let us know afterwards by email or text.

---
---